Wyndham Westwinds
Myrtle Beach, South Carolina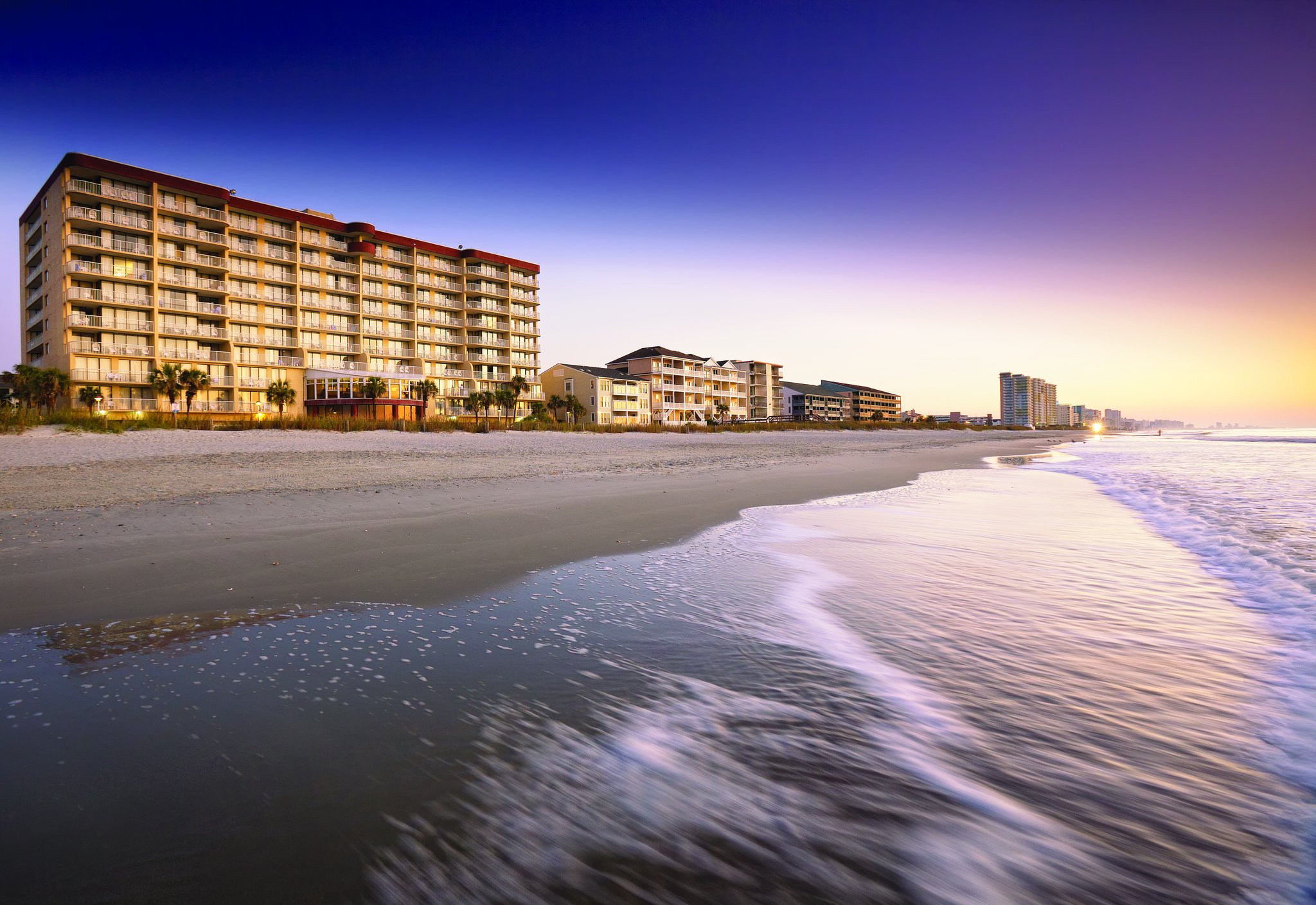 CAN'T FIND WHAT YOU'RE LOOKING FOR?
GO HERE
Resort Description: (scroll for more)
Are you looking for miles and miles of beaches? Are you looking for a place to vacation with family? Are you looking for culture, water sports, golf courses and and exciting nightlife? If you answered yes to any of those questions, then Myrtle Beach, South Carolina is the spot for you, and Wyndham Westwinds,(formerly Fairfield), is the perfect place to own a timeshare!
Wyndham Westwinds Timeshares
Wyndham Westwinds is a ten story building with breathtaking views of the Atlantic Ocean, and set in a perfect location along the beach for countless nights just relaxing on your private balcony and just gazing at the awe-inspiring sunset into the ocean. You have your choice between a one bedroom condominium and a two bedroom condominium. The one bedroom condo includes a king bed, a sleeper sofa, full kitchen, a washer and dryer, and private balcony. The one bedroom condo accommodates up to four people. The two bedroom condo offers a king bed, two twin beds, a sleeper sofa, full kitchen, two bathrooms, a washer and dryer, and a private balcony. The two bedroom condo can accommodate up to 6 people. There is an indoor and outdoor swimming pool, an outdoor children's swimming pool, and one indoor and one outdoor hot tub.
There are so many things to do in Myrtle Beach, where do you start? If you are a golfer, then we suggest you visit one of the six award-winning courses, including the only five-star course in Myrtle Beach, the TPC of Myrtle Beach. A par 72, 18-hole course with stunning fairways, greens, and three beautiful par fives. If you want to practice your putting, you can also try some miniature golf.
If you want to spend more time in the water than on the golf course, then you can go fishing, scuba diving, snorkeling, windsurfing, water skiing, para-sailing, jet skiing, or boating.
If shopping and dining out is sounds more like fun to you then Barefoot Landing is the place to be. Barefoot Landing is a collection of more than 100 shops to satisfy all of your shopping desires. Here you'll find stores like Belches N' Burps, a gourmet food shop offering all kinds of sauces, spices, dips, chef aprons, and lots more. They are also famous for their hand-cut flour tortillas and on their over 200 different hot sauces to choose from. The Tinder Box is a cigar and cigar accessory store with top brands like La Princesa de Cuba, Cocinero Liga Especial, Macanudo Gold, and Montecristo Media Noche. If you like Native American themed items, you could also stop by the Wolf Creek Gallery for Native American arts and crafts, jewelry, herbal teas, sculptures and more.
Well after all that shopping you will definitely work up an appetite. Without even leaving Barefoot Landing you will have your dining choices cut out for you. For a great lunch or dinner, you can visit Bully's Pub and Grill, with appetizers like chicken fingers, soft pretzels, breaded shrimp, french fries, and jalepeno poppers, and dinner menu items like a tuna melt, Philly cheese steak, buffalo chicken sandwich, or even try Bully's BBQ Porker.
If you prefer to listen to some live music as you enjoy your dining experience, you may want to visit the House of Blues, with appetizers that will tantalize your senses like the brick oven roasted chicken quesadillas, the crispy catfish nuggets with sweet potato french fries, and the pan seared voodoo shrimp with rosemary cornbread and dixie beer reduction.
No matter what activities you decide to do, or where you decide to go shopping and dine out, Wyndham Westwinds, is a great timeshare choice when visiting Myrtle Beach, and Premier Timeshare Resales is your best choice to help you out every step of the way when buying or selling your Wyndham Westwinds timeshare.
If you have any questions regarding a Wyndham Westwinds timeshare resale please contact us.