Hyatt Beach House
Key West, Florida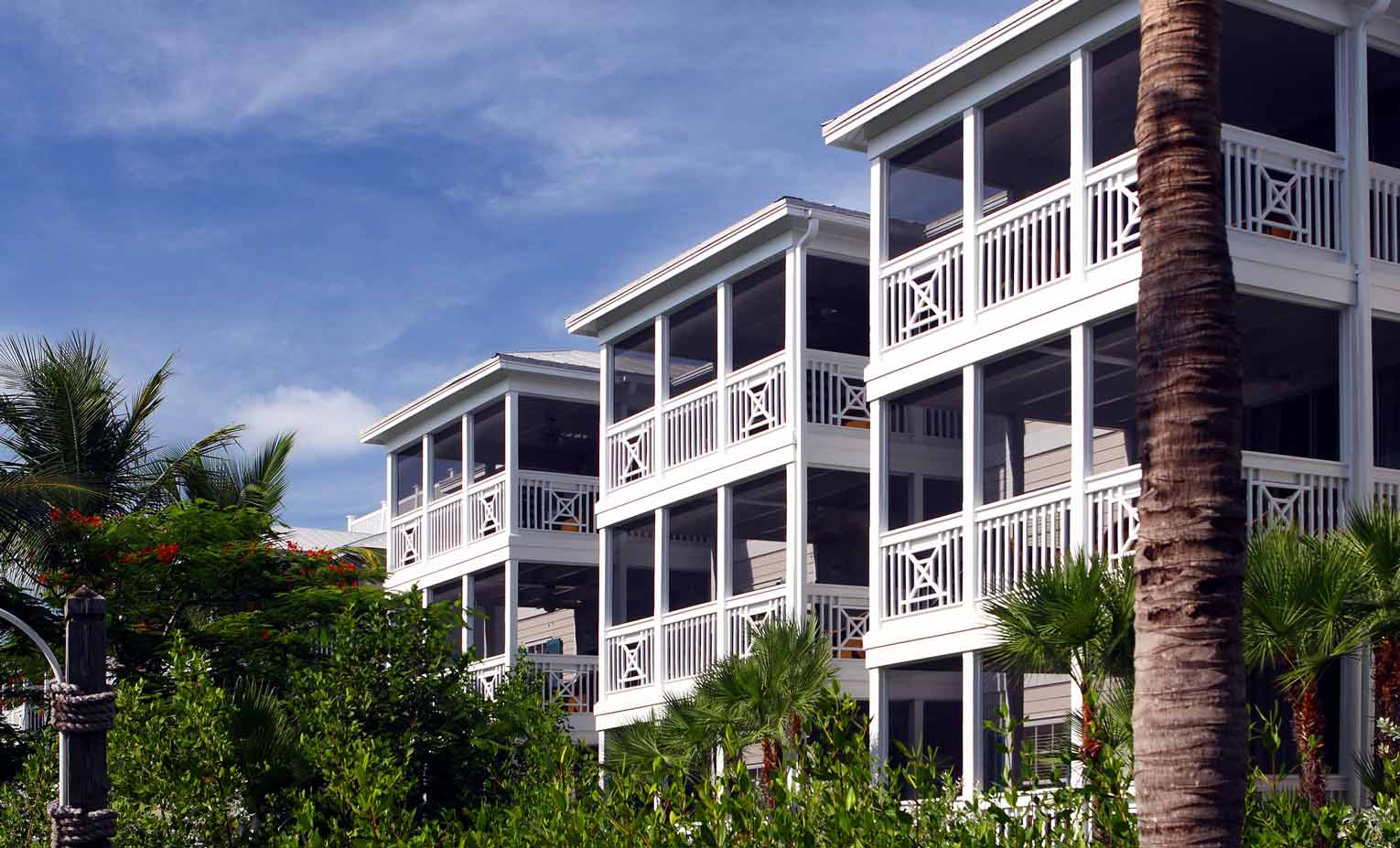 6725
Gold (1880 pts)
15
2 / 2
annual
$8,000
13284
Pending
43
2 / 2
annual
$4,500
6782
Platinum (2000 pts)
9
2 / 2
every other year - even
$10,000
14685
Silver (1400 pts)
33
2 / 2
annual
$4,850
CAN'T FIND WHAT YOU'RE LOOKING FOR?
GO HERE
Resort Description: (scroll for more)
The white sand beaches and azure waters of the Gulf of Mexico set the stage for the perfect Key West vacation at the Hyatt Beach House. Free-spirited, scenic, and laid back, Key West is one of the most unique and beautiful destinations in the United States. Well-known for its tropical climate, easy going attitude, and seemingly never ending happy hour, this enchanting island has been welcoming vacationers for over two centuries. Tastefully decorated in the old Florida style and well-appointed, the 74-unit Hyatt Beach House is the ideal sanctuary for relaxation and rejuvenation in this picturesque locale. Steps from the beach, Hyatt Beach House timeshare resales are perfectly located to take advantage of fishing, boating, snorkeling, diving, and discovering the famous city of Key West.


Revive Your Mind, Body, and Spirit at the Hyatt Beach House
Set amidst a refreshing plantation-style environment on a breathtaking piece of Key West real estate, each Hyatt Beach House timeshare resale property features two bedrooms, king and queen-sized beds, a private balcony, master suite with spa tub, premium electronics and Wi-Fi, dining area, sleeper sofa, fully equipped kitchen, and much more. Step outside and you will find an expansive lagoon-like pool and spa, barbecue grills, and palm trees galore. Take a few more steps and you will discover the tropical seclusion of your private white sand beach, complete with cushioned chairs, cabanas, and views of the alluring Caribbean waters. Each Hyatt Beach House fractional ownership property also comes with full privileges at the Hyatt Key West Resort & Spa.


Hyatt Beach House Offers a Distinctive Key West Experience
Key West is home to Duvall Street, one of the most famous streets in America. Lined with laid back and unique bars, restaurants, and a range of shops, Duvall Street is an experience all its own. When in Key West, you must do the "Duvall Crawl" and hop from one restaurant and bar to the next all the way down the famed street, listening to live music and sipping distinctive Key West spirits along the way. If you find a Hyatt Beach House timeshare for sale that is available for the month of October, you can experience Fantasy Fest, one of the most renowned and exciting festivals in all of America.


Hyatt Beach House: A Fisherman's Fantasy
Inland channels, shallow flats, and wide open blue waters bring anglers from all around the world to Key West to experience world-class fishing. Seasoned deep sea captains will guide you to the prime fishing waters just beyond the area's shallow reefs. Key West provides one of the most diverse fishing environments in the entire world, with hundreds of fish species just begging to be caught. Marlin, grouper, tarpon, sailfish, jacks, snapper, wahoo, bonefish, sharks, mahi-mahi, and many other types of delicious and coveted sport fish are only a cast away. If you fancy yourself a fisherman, then Key West is definitely the place for you.


An Underwater Wonderland at the Hyatt Beach House
Boating and fishing the bountiful waters of Key West may be a thrill, but the fun gets turned up a notch when you dive beneath the waters and witness the undersea magic. Key West is engulfed by calm, warm, and clear waters that are brimming with life and beauty. Only six miles off of the coast you will find the third-largest coral reef in the world. Not only does the reef keep the waters around Key West calm and clear, but it is also teeming with schools of tropical fish and other marine life. Grab a snorkel mask and a pair of fins, or fill up the dive tanks and put on your SCUBA gear to witness an undersea theatre of stunning colors and movement as schools of fish move about in this undersea wonderland.


Leave Your Worries Behind Every Year with a Hyatt Beach House Timeshare Resale
There are currently a number of Hyatt Beach House timeshare deals, and if you are looking to buy a Hyatt Beach House timeshare, the friendly folks at Premier Timeshare Resale can find the best deal for you. The dedicated real estate pros at Premier Timeshare Resale also understand that circumstances arise from time to time and you may need to sell a Hyatt Beach House timeshare. If this is the case, their marketing experts and experienced agents can help you receive the best price for your Hyatt Beach House fractional ownership property, providing another lucky person with the opportunity to experience the magic of Key West.