Marriott's Sunset Pointe
Hilton Head Island, South Carolina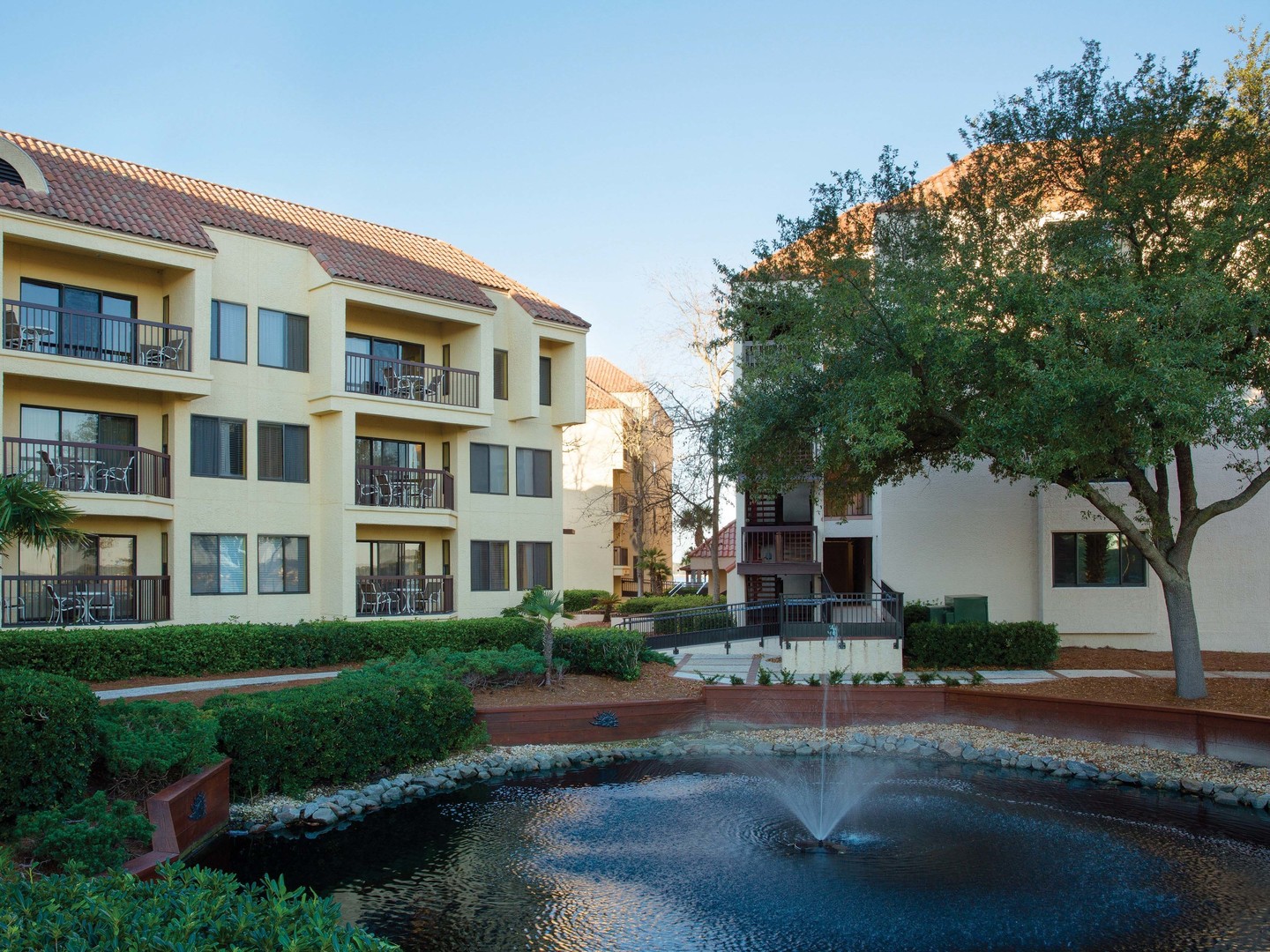 17658
Value
51
2 / 2
annual
$7,500
CAN'T FIND WHAT YOU'RE LOOKING FOR?
GO HERE
Resort Description: (scroll for more)
Marriott's Sunset Pointe timeshare resort is located on Shelter Cove Harbour on fabulous Hilton Head Island, South Carolina. If you are looking for a vacation resort that has a lot to offer and will make your vacation unforgettable, then a Marriott's Sunset Pointe timeshare resale should be your first choice. Located on the same property as Marriott's Harbor Pointe, the timeshare resort offers a peaceful setting that will allow you to escape from the hustle and bustle of the daily grind.
Marriott's Sunset Pointe Timeshares
Hilton Head Island has long been a desired resort destination for travelers seeking a relaxing and picturesque setting on the Atlantic Ocean. There are many activities available to vacationers who visit the island such as golf, boating, tennis, fishing, sunbathing, and many other exciting recreational activities. Shopping abounds on Hilton Head Island in a number of unique shops that cater to a variety of tastes. You can also satisfy your dining desires at the many restaurants that are found on the resort island right next to your Marriott's Sunset Pointe timeshare.
What Marriott's Sunset Pointe Timeshares Have to Offer


Marriott's Sunset Pointe is an elegant resort that is part of the Marriott Vacation Club. You can buy a Marriott's Sunset Pointe timeshare and begin to enjoy one of the best resort properties in the Marriott family.
Each Marriott's Sunset Pointe villa offers two bedrooms and two baths that are tastefully decorated. The villas include a master suite with an over-sized whirlpool tub, comfortable king-sized bed, and television with cable/satellite. Each villa has a private balcony offering tranquil views that are sure to get you in a relaxed mood. Separate living and dining areas offer greater flexibility when entertaining. The kitchen is fully stocked with tableware, silverware, pots, pans and other serving utensils. A microwave oven and conventional oven allow guests to prepare meals with all the conveniences of home. In the living area there is a television and DVD player. DVD rentals are available from the resort. Each guest unit also includes a washer and dryer that will provide the added convenience necessary during extended stays. Other convenient items include alarm clock, coffee maker, iron, and in-room safe.
Marriott's Sunset Pointe Timeshare Amenities

Marriott's Sunset Pointe timeshare deals are available and if you are able to take advantage of one of them to purchase a villa, you will be pleased with the resort amenities. Amenities at Marriott's Sunset Pointe include a deluxe pool, whirlpool, and a heated pool located at the Harbor Pointe site. A game room for kids, tennis, table tennis, and a nature trail are all located on the resort property. An on site fitness center is available for guests and it features cardio-vascular equipment, treadmill, stair stepper, and free weights. Other amenities located near the resort include kayaking, jet-skiing, horseback riding, sailing, miniature golf, and jogging and hiking trails.
Hilton Head Island has a number of PGA-sanctioned golf courses that are within driving distance of your Marriott's Sunset Pointe timeshare. The Robert Trent Jones Course at Palmetto Dunes is one of the closest golf courses to the resort.
Although the resort does not have its own restaurant or dining facility, there are a number of great restaurants in the area. You have a choice from a variety of cuisines that are nearby and open for lunch and dinner. A free shuttle bus will transport you to nearby shopping and dining areas. Access to the beach is only about a mile away from Sunset Pointe.


While staying at your Marriott timeshare, you will find many things to do in the area. Shopping, sunbathing, deep-sea fishing, golf, and biking are among the things available on the island. If you want to venture from the island, Savannah, Georgia is only about 45 miles away and is a great city to spend a day exploring its southern charms. The historic city offers a number of great shops, wonderful restaurants, and historic attractions.
Buy a Marriott Sunset Pointe Timeshare Resale

If you find Marriott's Sunset Pointe timeshares for sale, you should consider purchasing a unit on spectacular Hilton Head Island. You will not be disappointed if you're looking for that perfect getaway to an island resort that offers great ambiance, a tranquil setting, and convenience to island amenities and the beach. The experienced timeshare brokers at Premier Timeshare Resale can help you find timeshare deals to buy the timeshare of your dreams. If you are looking to sell a Marriott Sunset Pointe timeshare, the realtors at Premier Timeshare Resale can sell your timeshare with no upfront fees. Marriott's Sunset Pointe is worth considering when buying a timeshare resale.